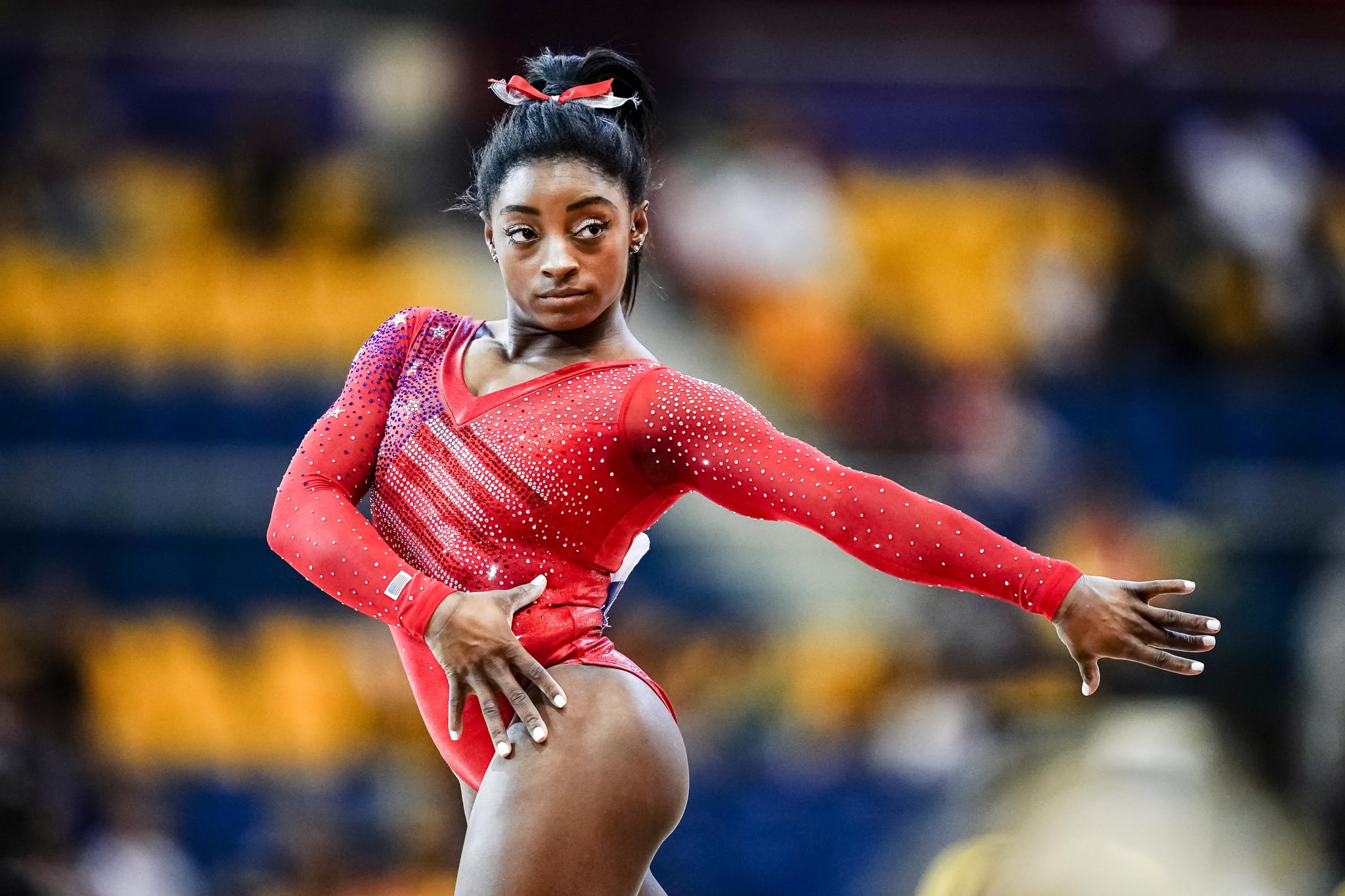 Image Source: Getty / NurPhoto
I'm surely not the first person to tell you that getting through this year and a still-serious global pandemic has been a more-than-difficult task — and Simone Biles knows the feeling. Yes, the world-class gymnast started dating her new beau and debuted gravity-defying skills at practice, but she had to make sure she was prioritizing self-care, too, during this time.
How exactly did she do that? Well, she shared a glimpse into her go-tos at the "Gold Medal Goals" event on Dec. 17 sponsored by Visa and Capital One. It featured Biles alongside Olympic swimmer Katie Ledecky and was hosted by Joi Wade.
Biles mentioned that an important aspect of her self-care routine is tending to her body whether that's soaking in epsom salt baths and the hot tub or getting massages. "A part of my big self-care routine is just relaxing, getting my body worked out, because mentally and physically we have to be prepared to perfect our craft," she said. This makes her feel at ease and calms her so she can perform at her best.
Another main component is napping — loads of napping! "I feel like without my naps I wouldn't reach a lot of my goals just because I feel like that helps refuel me especially after long training days," Biles said of her reinstated practices amid the pandemic. She trains twice a day for about six to seven hours total, so she'll try to squeeze in those naps between sessions. "I love naps, I love sleeping," she stressed (same, honestly).
One thing Biles wants to do more of in 2021 is journaling. She explained, "I used to journal a lot more to put my thoughts onto paper if I was ever having a hard day or a really great day, anything that I wanted to document, and now I feel like therapy helps me with that, but since the pandemic, I haven't been able to go as often, so I do have a couple journals that I'd like to start documenting 2021 in and see what happens and see where it takes me."
If you're like her and have that same goal, check out therapist-approved tips to journal for your mental health. We hope you — and Biles — start the new year off strong. Because we know you are.