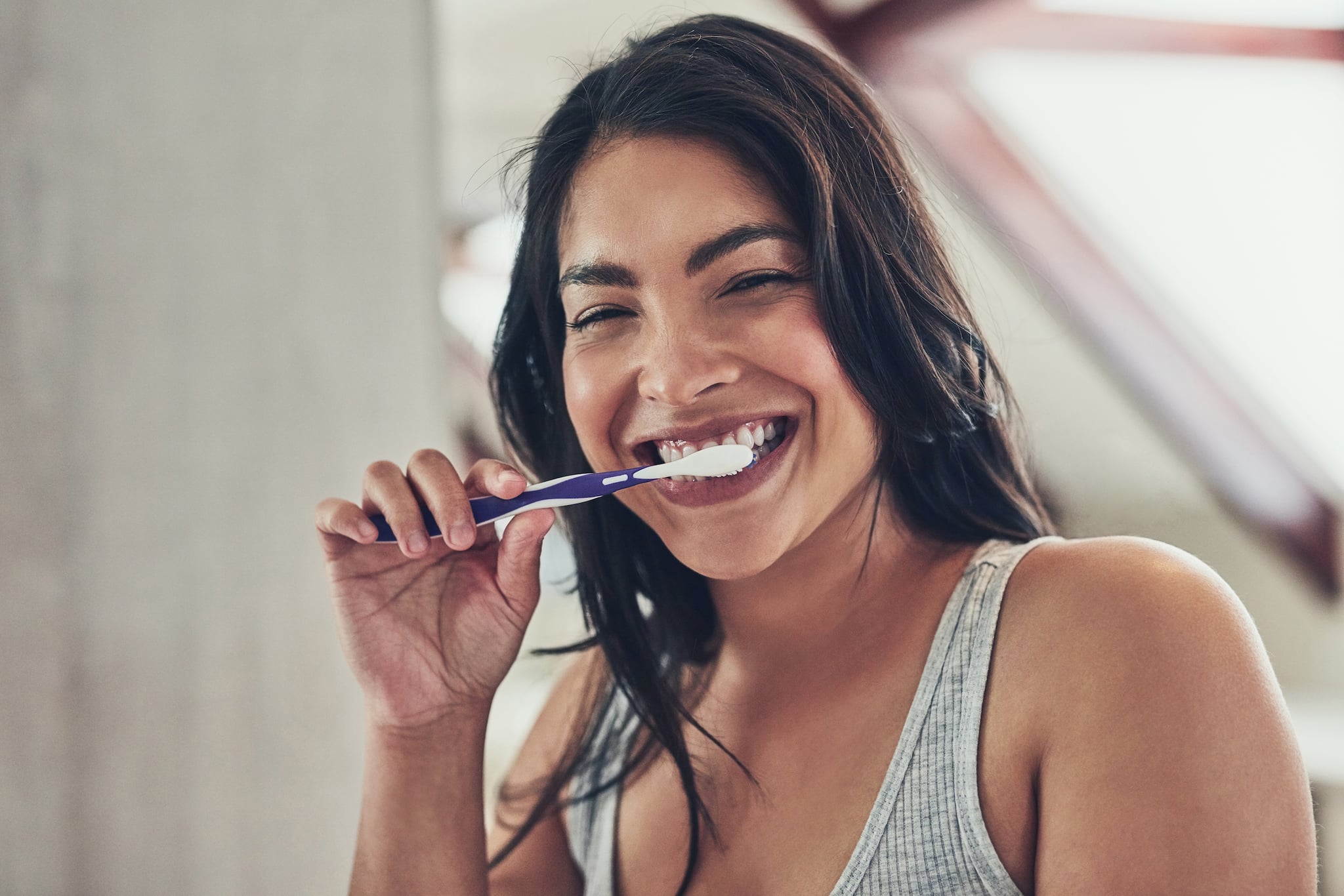 My toothbrushes almost always come from that goodie bag of dental health products your dentist gives you after a cleaning. It's about time to replace my current toothbrush, though, and since I'm fresh out of stock and my cleaning isn't for another few weeks, I need to get shopping.
To better navigate the sea of electric and manual options out there, I tapped two dentists for their best tips on choosing the right toothbrush — check 'em out below.
Replace Your Toothbrush Every 3 Months
First, you should be familiar with the signs that indicate you need to replace your toothbrush — and why it's important.
"It is recommended to replace toothbrushes every three months, not because of worn-out efficiency but mainly due to microscopic bacterial buildup in between bristles," said Dr. Lewis Chen, DDS, FICOI, FIADFE, cofounder and managing partner of Beam Street.
Probably not something you'd want to clean your teeth with, right? Dr. Chen said when the bristles start to flare out, it's likely time to replace the toothbrush.
Look For a Small Brush Head and Soft Bristles
Dr. Michaela Tozzi, DMD, recommends using a toothbrush with a small brush head, "so it can fit into tight spots, like the back corners of your mouth."
Instead of superhard, tough bristles, Dr. Tozzi said to opt for brushes with soft bristles "because they're not harsh on the gums."
Consider an Electric Option
I've used a manual toothbrush my entire life, but Dr. Chen's words of wisdom have me reconsidering for my next purchase.
"Electric toothbrushes are certainly more efficacious than manual toothbrushes in providing an effective clean due to its motor and how fast bristles can oscillate and vibrate," Dr. Chen explained. "With manual toothbrushes, patients typically brush 'harder' thinking they'll get a more effective clean."
Dr. Tozzi agreed that electric toothbrushes are the better option: "As good as we think we are at brushing manually, we can't compete with the amounts of brush strokes per second an automatic toothbrush provides."
If you do decide to go for an electric toothbrush, Dr. Tozzi recommends buying one with different settings. "Sometimes people have sensitive gums and the 'regular' setting is too aggressive, so they should be using the lowest power setting."
Choose a Toothbrush That Upgrades Your Routine
Take the time to read the description on your toothbrush and read up on reviews — basically, what you use to brush your teeth should be a priority.
For example, Dr. Chen recommends looking at the toothbrush's technology. Rather than just looking at brushing your teeth as a chore, Dr. Chen said your toothbrush should "add value to your overall health."
But that doesn't mean your toothbrush needs to look super techy or futuristic. "One of the best tips for picking out the right toothbrush is to choose the one that looks pleasantly simple and ergonomically functional, because it is important to focus on compliance," Dr. Chen said.
Ask Your Dentist's Advice
There's arguably no one better to ask for toothbrush advice than your dentist, who will also be aware of your personal dental concerns. As for Dr. Chen and Dr. Tozzi's favorite toothbrushes?
Colgate's Hum gets Dr. Chen's stamp of approval. "It is one of the only 'smart' toothbrushes that has Bluetooth connectivity with an application that serves as your coach and guide towards oral health. Because of its smart sensors built within the toothbrush, the application can map out areas of the mouth that require a little bit more love. It helps remove the guesswork from patients and their oral hygiene routine," Dr. Chen said.
Dr. Tozzi's favorite is an electric option from Oral-B. "It has different brush head options, multiple settings, and a small rotating brush head. Plus, it has an app that tracks your brushing habits!"
Click here for more health and wellness stories, tips, and news.