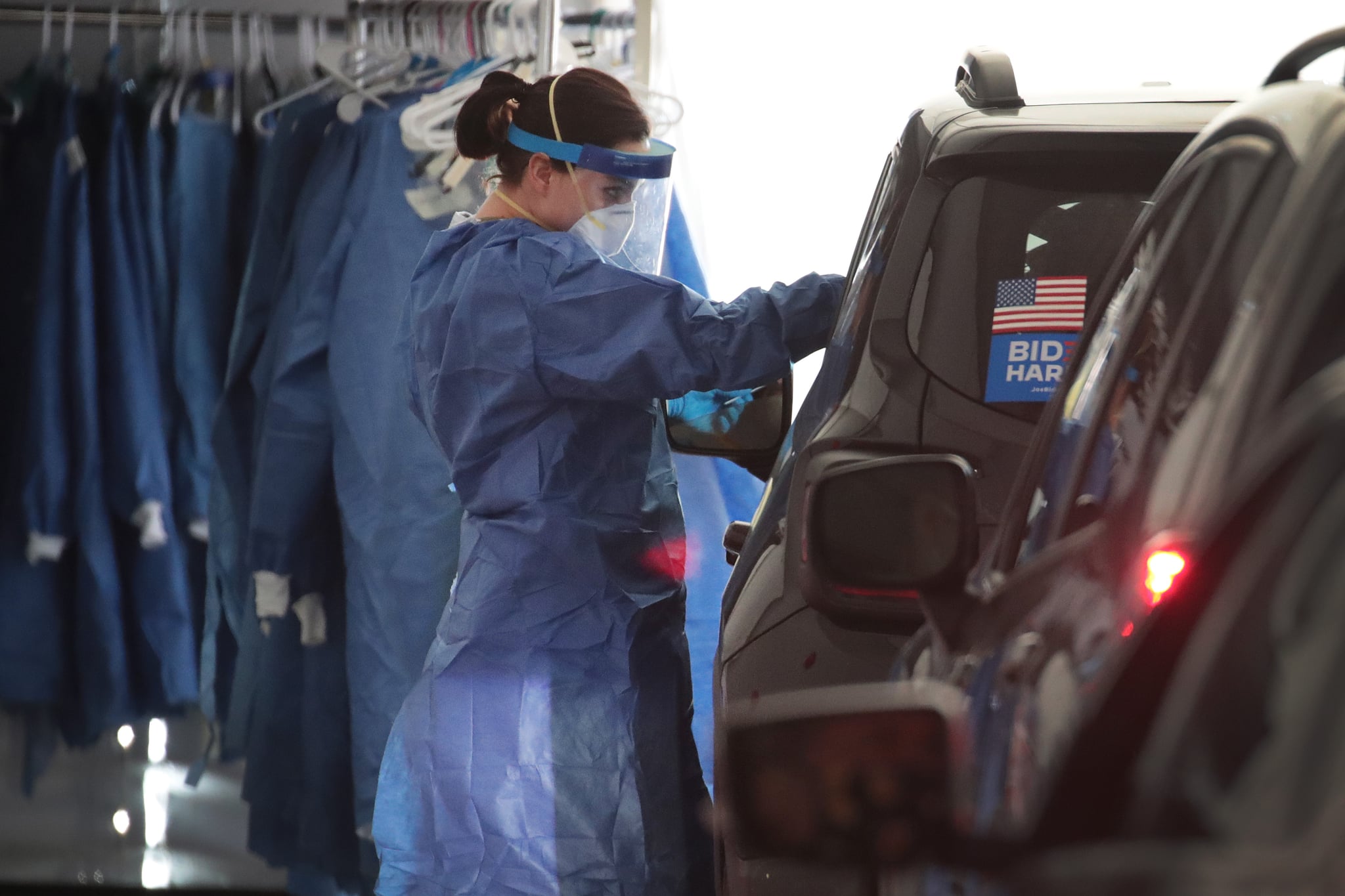 As we head into the holidays, COVID-19 is more widespread than at any point in the pandemic. The growing number of cases has left many Americans wondering if they should travel this season or even gather with family and friends at home. The Centers For Disease Control and Prevention (CDC) has urged Americans to refrain from celebrating with anyone outside their household — but that hasn't prevented people from lining up in droves for COVID-19 testing.
"As expected, we are seeing an uptick in COVID-19 testing appointments and are therefore advising patients to make sure they plan their testing appointments as far in advance as possible, and really evaluate the need for a test based on their unique circumstances," Navya Mysore, MD, a physician at One Medical in New York City, told POPSUGAR. "There are a lot of nuances in terms of timing and the right type of test based on your situation, so we recommend talking with your primary care provider to come up with a plan best suited to your needs."
For example, rapid tests may not be as effective in detecting infection in people who aren't experiencing symptoms. But no test can completely ensure your family's safety. After all, exposure can happen at any time — while you're waiting in line to be tested, at the airport, in the grocery store when someone inevitably forgets to pick up butter — meaning you could test negative only to come into contact with COVID-19 in the hours or days after you were swabbed. You could also get a false negative if you were exposed shortly before being tested, as it can take several days or more for a person to test positive.
Also, consider this: if you're getting tested simply because of the holidays (and you're asymptomatic and have no known exposure), you may be making it more difficult for someone who really needs a test to get one. Think: holiday traffic, pandemic-style.
How to Keep Your Family Safe This Holiday Season
Before weighing your options for testing, you should very seriously consider whether to travel at all. "Think about it long and hard," Dr. Mysore said. "Think about the risk to your loved ones and yourself."
In fact, as a physician, Dr. Mysore has a rather simple request this holiday season. "Avoid unnecessary gatherings, and wear a mask," she said. "I know the holidays are an important time for everyone, but this year we all need to make some sacrifices to protect our community, and that includes limiting social contacts, wearing a mask, washing hands, and following evidence-based scientific guidelines."
If you do plan to celebrate the holidays with others, "limit it to immediate family and avoid contact with anyone who is immunocompromised," Dr. Mysore explained. "Follow state guidelines for COVID-19 testing and quarantine." And remember, it's possible to connect with friends and family, even if you're not able to be together. "You can still plan a fun virtual gathering — it's not exactly the same, but it's still a good way to spend time with your loved ones," she said.