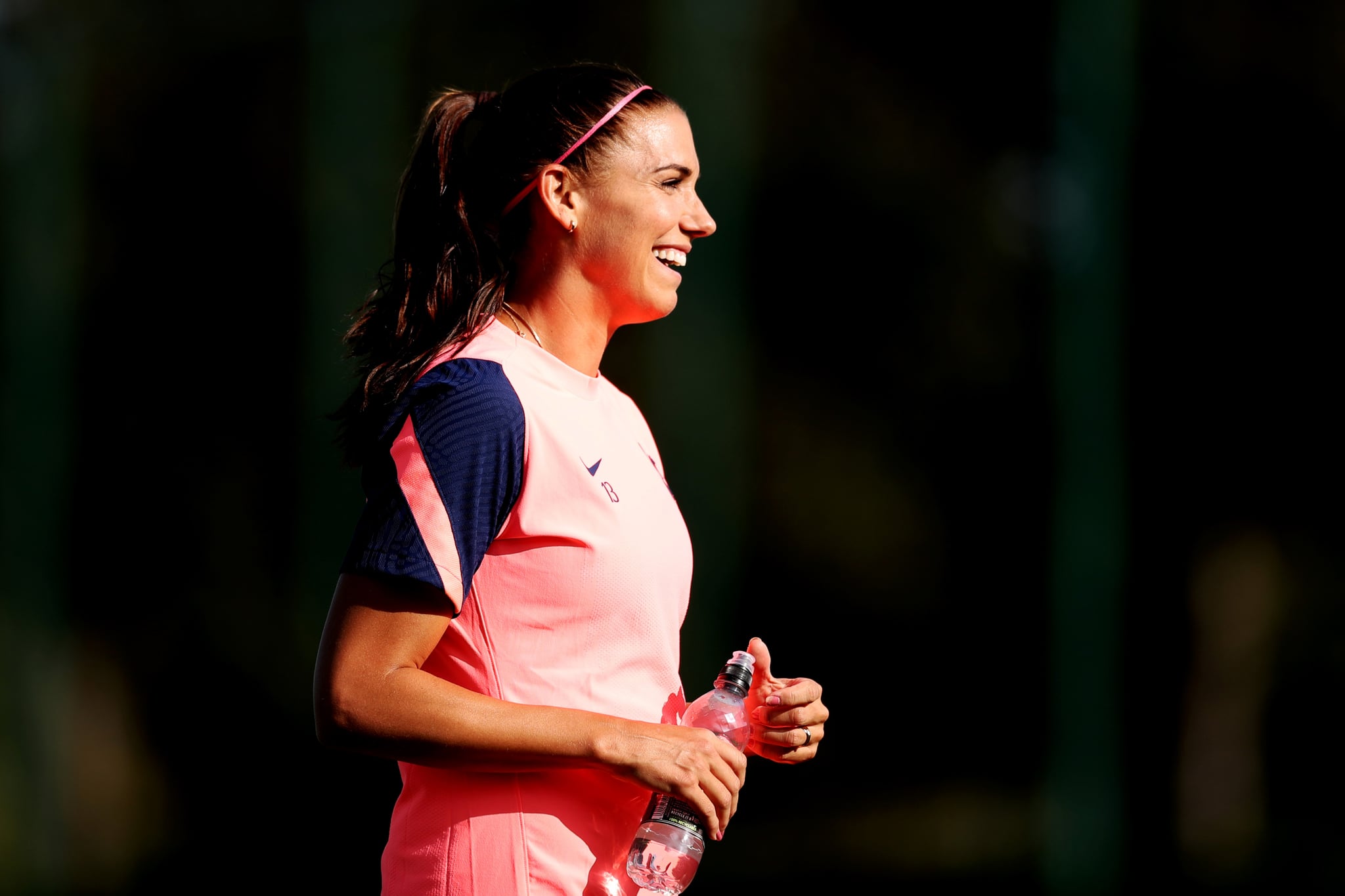 Soccer fans have gotten used to seeing Alex Morgan in one of two uniforms: the red, white, and blue of the US national team, or the bright purple of the NWSL's Orlando Pride. But in September, Morgan announced she'd be adding a new jersey to her collection, and for the first time in her career, it would be one from England. Morgan would be playing for Tottenham, a pro club based in London.
It was a big decision, but the rationale was simple. "I really just wanted to play soccer," the two-time World Cup winner and Olympic gold medalist told POPSUGAR. "I wanted to get back and be able to play consistent games." The coronavirus was making that complicated in the US, where the NWSL schedule was on shaky ground, and Morgan was itching to play regularly after taking a year off for her pregnancy (more on that later).
As for Tottenham: "Who wouldn't want to live in London and play for one of the most recognizable clubs in the world?" Morgan said. "I jumped on this opportunity and I'm really happy to be here."
Alex Morgan's Reaction to the Olympics Postponement
Let's rewind and set the scene. When Morgan revealed she was pregnant last October, fresh off a World Cup victory and with the Olympics around the corner, many wondered whether she'd be in game shape for Tokyo. Her due date was in April; the Olympics were set to start at the end of July. But the US National Team forward was confident, stating that she absolutely intended to return in time.
Morgan, along with thousands of other athletes, was thrown into a tailspin when the 2020 Olympics were postponed. In the end, though, she saw the silver lining. "It was actually a weight off my shoulders that I didn't realize was there," Morgan explained. "I knew at that point, I can just let Charlie come whenever she was ready."
The extra time came in handy, when Charlie, Morgan's first daughter with husband Servando Carrasco, arrived 10 days past her due date. "At that point I was happy for her to take her time," Morgan said. "I didn't need to rush back to anything."
Alex Morgan's Pregnancy and Postnatal Fitness Routine
Given her goal of getting to the Olympics, back when it was still set for 2020, Morgan's pregnancy fitness routine was intense. She took indoor cycling classes twice a week and went for runs until she was 36 weeks pregnant, then switched to daily five-mile walks. "I did a lot of prenatal yoga, too," Morgan added. "I absolutely loved prenatal yoga because it was my time to mentally and physically feel really good, and also just check in with my baby growing inside of me."
Now, Morgan said, "my focus is completely soccer." She's doing a lot of work in the gym, spending an hour and a half per session working her upper body, lower body, and core. Her favorite core exercise, Morgan added, is the classic dead bug move. "I feel like that works all of your core," she said. "It's one of the moves I do before training to get my core feeling activated almost every day." She's also out on the field five days a week.
The hard work has paid off; she said her body was back to competition shape about five months after giving birth. It's a fast turnaround, but Morgan said it didn't feel forced. "I wanted to get back into shape and I wanted to get back on the soccer field, but I didn't feel rushed to do that," she explained. "I just felt like that's everything I've known in life and that's what makes me happy. And now I have this little girl that makes me happy as well."
"I don't know if in my playing career, in my lifetime, we will see true equality. But I know for a fact we're getting closer."
Morgan, Carrasco, and Charlie are now together in London as she preps for her Tottenham debut. Sadly missing out on the fun are Morgan's two rescue dogs, Blue and Kona, who are back home in Florida, though she's keeping them top of mind thanks to a new partnership with Stella & Chewy's natural pet food. Morgan is supporting the brand's National Adopt a Senior Pet Month campaign, which covers adoption fees for senior pets rescued from US or Canadian shelters in November.
Continuing the Fight For Equal Pay
Morgan said she's always wanted to experience pregnancy and feel what it's like to have "a human growing inside me." Now that she has, she said that having Charlie was a "beautiful process," and one that's changed her relationship with her body. "I'm very amazed with what the female body can do and go through and endure," she said. It's been extra motivation toward the fight for equal pay, a movement she and the USWNT are leading on and off the field in spite of setbacks.
"Having Charlie now, I feel proud of the work that I've put in, the hours and hours and hours I've put in outside of the soccer field to create equality," Morgan said. "I don't know if work is ever going to be done. I don't know if in my playing career, in my lifetime, we will see true equality. But I know for a fact we're getting closer."