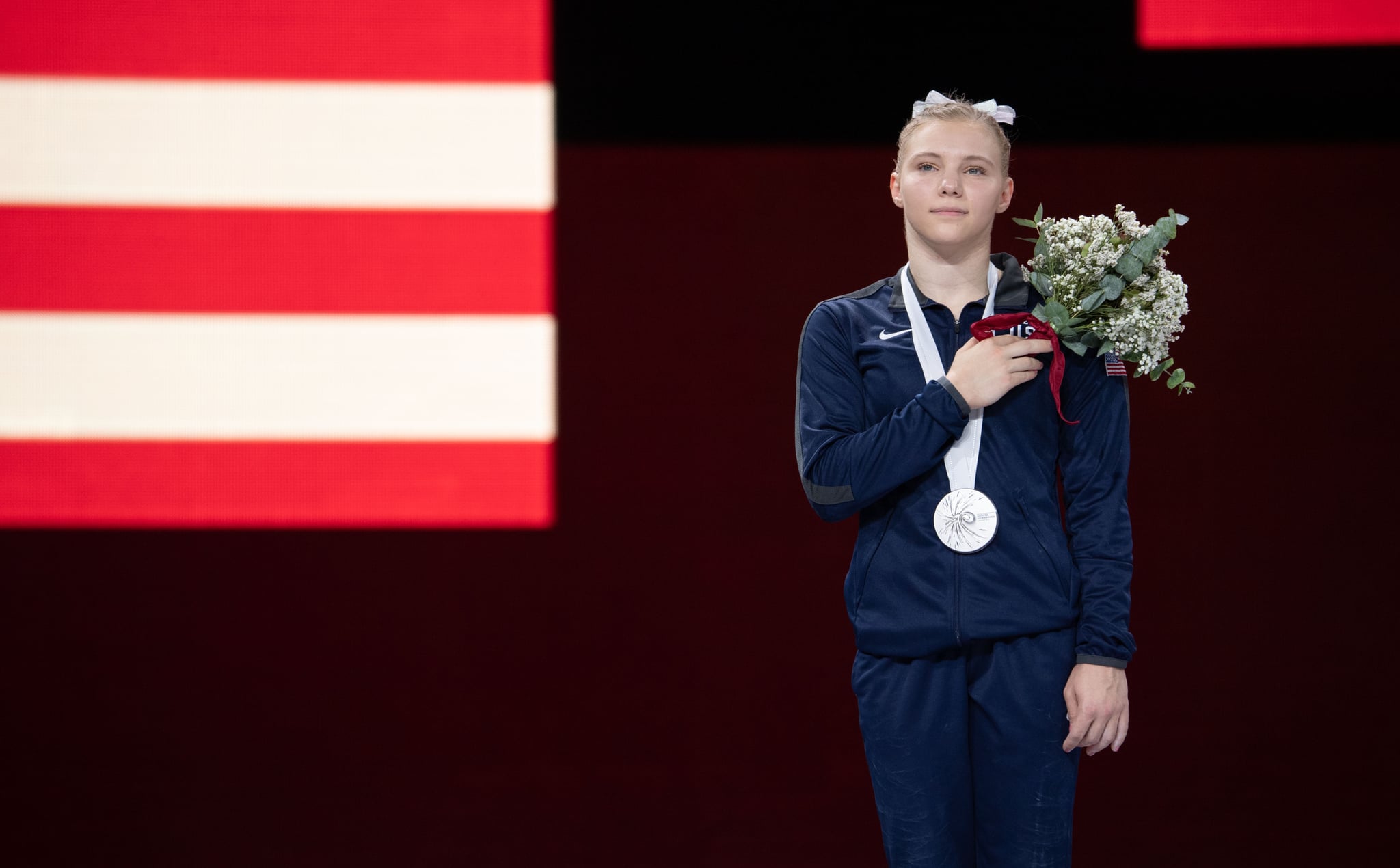 The rules for gymnastics at the Tokyo Olympics shifted since years past. Instead of five women on the US gymnastics team, there will be four, and up to two gymnasts will qualify as individuals without the opportunity for a team medal. One reason for this? International Gymnastics Federation's (FIG) former president, Bruno Grandi, wanted to narrow the competitive gap between countries — as The Washington Post explains, the fewer gymnasts on a team, the greater chance that countries with less depth of talent would be able to compete with dominating nations like the US and China. That being said, Arizona native Jade Carey already has a ticket to Tokyo as an individual for these upcoming Games.
In April, NBC Sports reported that Carey had mathematically clinched one of the United States's individual spots at the Olympics through the World Cup series, where the top three event finishes are counted — there are eight competitions total gymnasts can choose from and Carey competed at four of them. "We wanted to do three at my best to make sure," she told POPSUGAR, noting that she wasn't particularly pleased with her earliest performance.
USA Gymnastics hasn't officially announced Carey will be going to the Olympics as an individual — she admitted she's not sure when that will happen — but she does have that individual berth in her back pocket. Even though the last World Cup is postponed, with her lead in the standing, it won't matter if the competition is held or not. She's that far ahead.
Carey's coach, father Brian Carey, has also been in contact with team coordinator Tom Forster about her individual spot. "[Tom] talked to my dad about it, and everyone's on the same page, so we're kind of just waiting until it's official," Carey explained. Once in Tokyo, she'd have the opportunity to make it to the all-around and event finals. Time will tell — gymnasts have to compete in the qualifying rounds in Tokyo before that happens, and only two gymnasts from each National Olympic Committee can advance per final.
As an individual, Carey said she'd aim to compete in the all-around qualifications to "see what happens." She is a world medalist on vault and floor and noted that she would also want to make the Olympic finals in those events. Though it's important to Carey that she now has that green light to head overseas next summer, she's still interested in attending the June 2021 Olympic trials at which athletes competing in the team event will be decided. "There's still always that possibility that I could be put on the team, so I want to be ready for anything," she said.
When she found out that the Tokyo Olympics were postponed, Carey was upset, at first — and understandably so. The postponement also meant she would have to defer from going to Oregon State, where she is committed to attend as a student-athlete, until fall 2021. She and fellow national team member Riley McCusker were able to "have fun" at practice for a while, Carey said, because they didn't have any competitions coming up. More time to prepare, too, means the opportunity to perfect routines and make upgrades.
Carey has always dreamt of going to the Olympics, but it wasn't until she was older that she truly started to strive for it and see it as a possibility. "I love everything about it, like flipping and flying through the air," she said of gymnastics (fun fact: her favorite skill is a double-twisting double backflip on floor). "I also love the challenge that it brings. Everything is so challenging, but nothing feels better than finally accomplishing a skill or a routine that you've never done before."