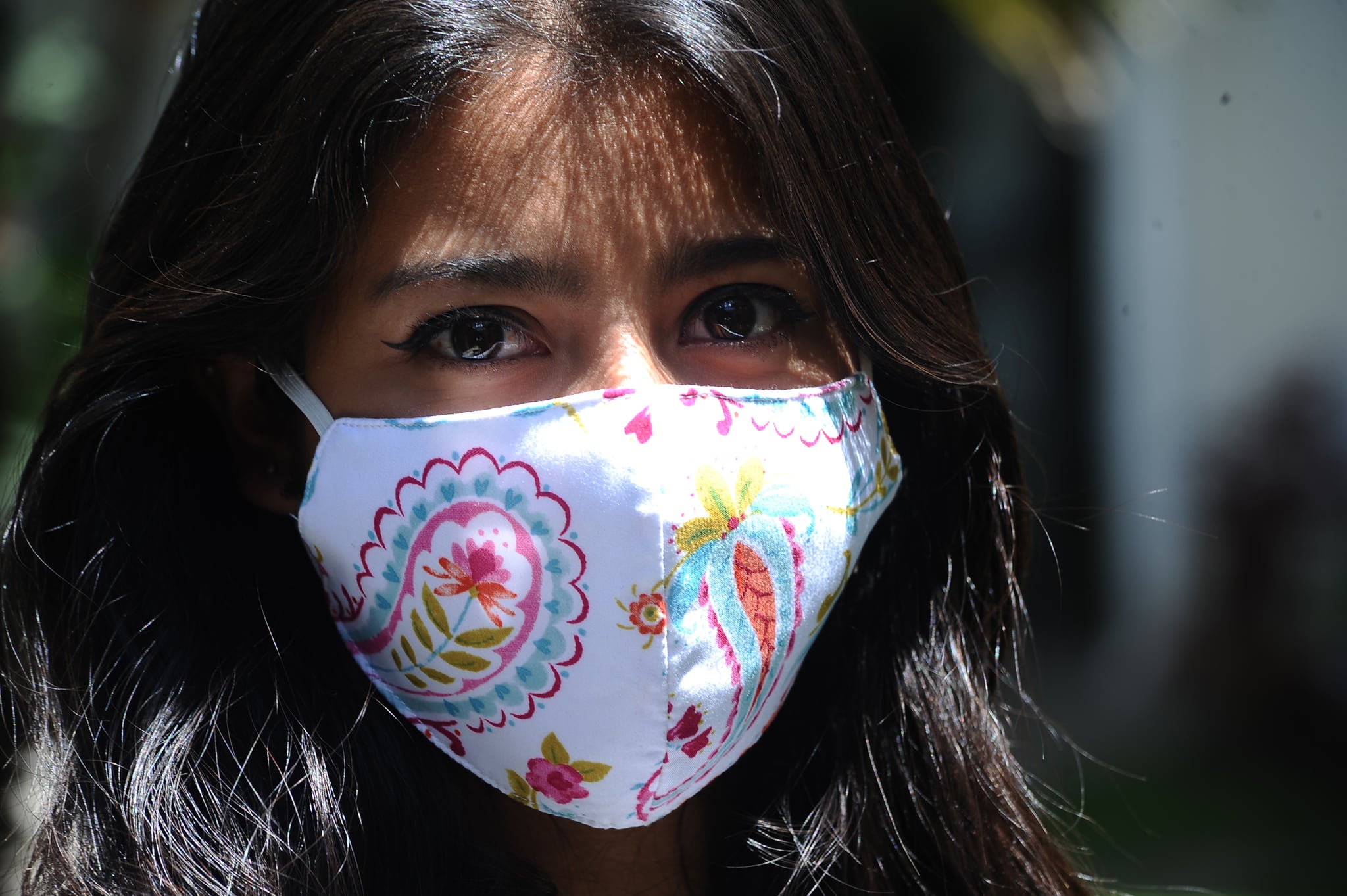 There's still so much to understand when it comes to masks and COVID-19. At the very basic level, we know the CDC's recommends for fabric face masks to be worn when out in public or around other people. But then there are other factors to consider, like the materials they're made out of or companies making over-the-top claims about the efficaciousness of their particular masks. Specifically, we've been wondering if antimicrobial masks are something we should be wearing, and if they're any different from a regular, reusable cloth face mask.
In theory, masks made with an antimicrobial coating are thought to be more sanitary. According to NBC News's expert, "These cloth masks are designed to be odor-resistant and to help prevent the growth of bacteria on the surface of the fabric." However, knowing that the novel coronavirus generally spreads through air droplets rather than on surfaces like fabrics, we wanted to check with another expert to get their take on these antimicrobial masks. We spoke with Dr. Charlaynn Harris, Ph.D., MPH, senior epidemiologist at Unity Band, to get her take on these kinds of masks and whether or not you should grab one.
Are There Benefits to Antimicrobial Masks?
Companies making antimicrobial masks tout that they prevent the growth of bacteria on the cloth and prevent the fabric from holding odors (both definite pluses). Dr. Harris, however, doesn't feel like there are any specific benefits to antimicrobial masks. "I would not recommend any product like this if not fully vetted by the FDA," she told POPSUGAR. "Antimicrobial can be a broad term and not necessarily mean beta-coronavirus (the family of coronaviruses SARS-CoV-2 belongs to)." She added that many products aren't backed by enough science to make them trustworthy, in her opinion, so consumers should tread carefully while shopping. Also, the CDC has not officially released any recommendations on using antimicrobial masks.
Are Antimicrobial Masks Effective at Protecting You From COVID-19?
According to Dr. Harris, antimicrobial fabric masks are no better or worse than a regular fabric face mask. She actually cautions wearers from feeling overconfident in an "antimicrobial" mask. "I do feel as though these products could lead to false security for the wearer," she told POPSUGAR. "Claims of being antimicrobial leads the wearer to believe they have an added barrier against this highly infectious pathogen."
Fabric face masks are perfectly acceptable, according to the CDC, so sticking with the fabric face mask you have (provided it meets CDC guidelines, you're wearing it properly, and you're cleaning it properly), should be fine.
POPSUGAR aims to give you the most accurate and up-to-date information about the coronavirus, but details and recommendations about this pandemic may have changed since publication. For the latest information on COVID-19, please check out resources from the WHO, CDC, and local public health departments.