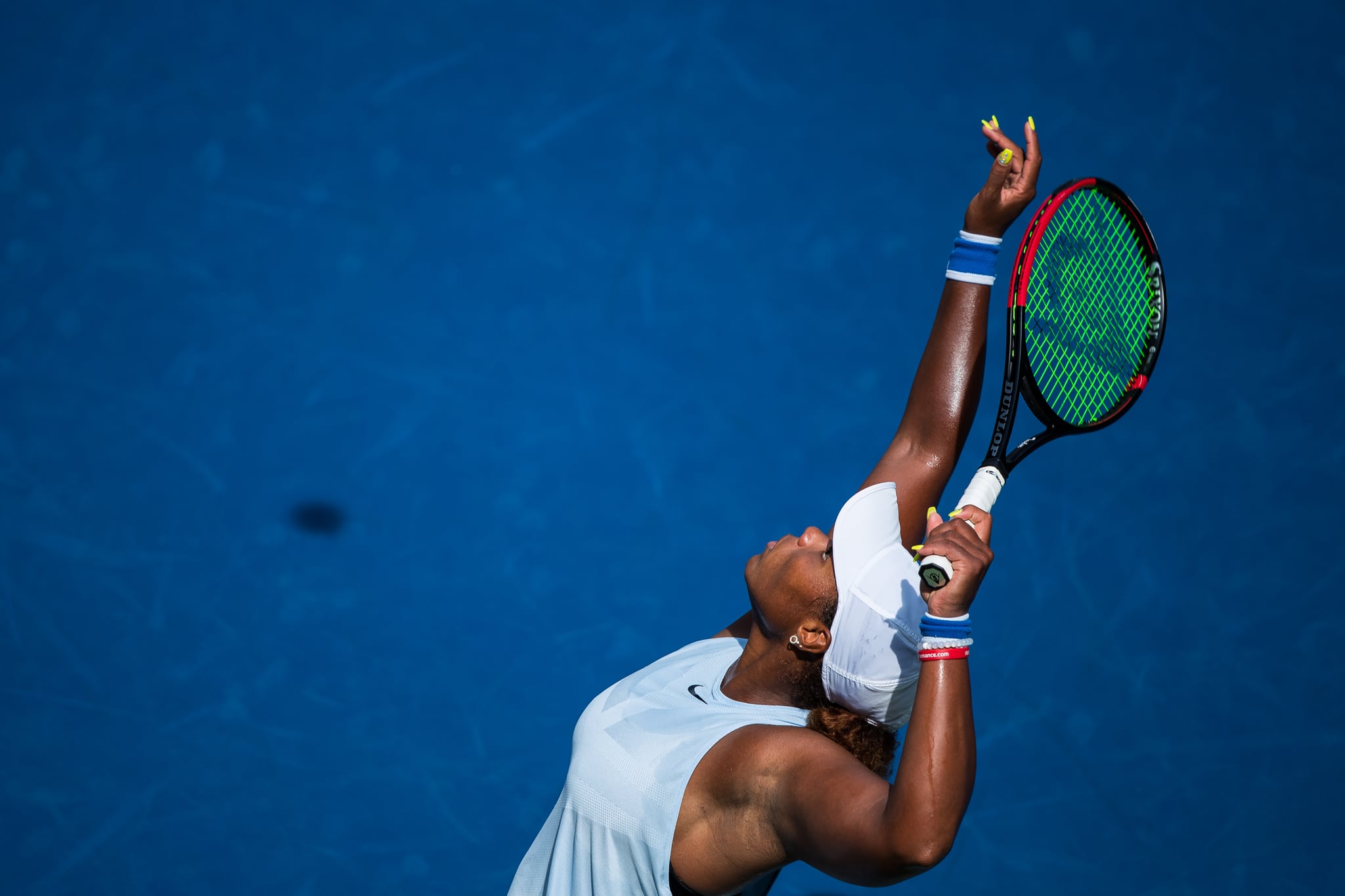 Taylor Townsend has been playing tennis since she was a little girl, and the adversity that comes with being an athlete and being a Black woman in a predominately white sport is not new to her.
The coronavirus pandemic has upended what we deemed to be "normal life"; it's completely transformed people's livelihood, and it's had a negative impact on people's mental health. For Townsend, mentally coping has been the hardest part throughout the pandemic. "I actually started doing therapy. I told myself, 'OK, if I'm not able to practice as much as I want to and play matches and travel — and I really had a hard time with this being my new normal — I'm going to work on my mind and just try to dive into some things that may have been inhibiting me on the court,'" she told POPSUGAR.
The period where she was unable to train and compete was a great opportunity to work on herself, she explained, because she had the time to emotionally process her feelings. In addition to working on herself, Townsend picked up new hobbies like painting, gardening, playing the piano, and set a goal to read one book a month. "I was trying to keep myself busy in other ways," she said.
But no matter how hard she tried to keep herself mentally stimulated and busy, Townsend couldn't ignore the racial and social injustices happening in the world and throughout the US. As a Black woman and a Black athlete in a predominately white sport, "It's a lot," she said. "I just struggled because [you're] constantly on your phone, on your computer — wherever you go, you're tapped into it. It seemed as though every day it was something new. It was emotionally draining. It was mental and emotional drainage," she continued.
In order to protect her peace, Townsend decided to take time away from social media "and focus on what is important to me and my space." But that time away didn't mean she wasn't going to address the daily injustices that affect Black people and people of color on and off the court. Like many Black athletes, Townsend has been vocal about about the racial and social injustices nonwhite people deal with daily.
"As an athlete, it was strange because tennis — this conversation is never talked about in this sport," she said. Townsend described the conversations that have come up in the past as "very on the surface," expressing that she believes this is because Black people are not the majority in tennis. "Our problems aren't common amongst 97 percent of the tour, as well as 90 to 95 percent of our tour is foreign. So, the issues that are happening in America won't register the same way as it would for someone who lives here and is from here because it's a historical thing."
It starts with reevaluating the system because the system is not made for us to thrive.
Recently, when given the opportunity to speak about topics including racial injustice with the tennis community, Townsend felt "extremely disappointed, honestly, in the way that what I spoke about was conveyed." She felt as if her voice was taken away from her and her message diluted. But Townsend isn't backing down and will continue to speak out about the injustices both in the sport and in the US.
When asked how to make tennis more diverse, Townsend said, "People don't have that expendable income just to start. . . . And then I think the second part of it is access." For predominately white sports like baseball, tennis, fencing, and swimming, you need funds and access to equipment and facilities, as opposed to a sport like basketball where all you need is a ball and a hoop and you can train alone.
To create a change in tennis, specifically, Townsend said the federations and larger organizations need to provide resources and programming for inner-city kids and people who live in low-income areas so that they can have the exposure, experience, and support to succeed. "So, I think that it starts with reevaluating the system because the system is not made for us to thrive," she said.
Like many sports, tennis has a long way to go to become more diverse and accessible for all, but a new generation of athletes, like Townsend, are ensuring that all people are represented and can pursue their passion for the game.