Ever since my CrossFit gym closed in March and the weather was beginning to warm up, I took my workouts outside and started running again. I go every morning for about an hour, and it's really helped give me the space and time I need for self-care and to support my mental health. Unfortunately, my feet have been less than psyched with my daily workouts, and even though I stretch daily and get enough sleep, I've had some issues with plantar fasciitis and knee pain.
When running, I found that I had to stick to wearing a specific pair of sneakers and even those didn't make my feet feel 100-percent awesome. Hoka One One sent me the Clifton 7 running sneakers ($130) to test out, and my feet are beyond happy. I tried this brand about five years ago when I was training for my first half marathon, but they were a little too cushiony for me, and I've been using other brands since. But now, I'm officially hooked!
What I Love About the Hoka One One Clifton 7 Sneakers
When I slipped on these sneakers, I instantly felt the smooth comfort and cushioning. They felt perfect right away as I walked around my living room to test them out. I liked that they fit snugly around my midsole but that I also had a little room in the toe area. I'm a 7.5 and these definitely fit true to size.
The laces tightened well and stayed put — although they were on the longer side, so I had to double knot them, otherwise the little plastic ends on the laces annoyingly hit my ankle as I ran.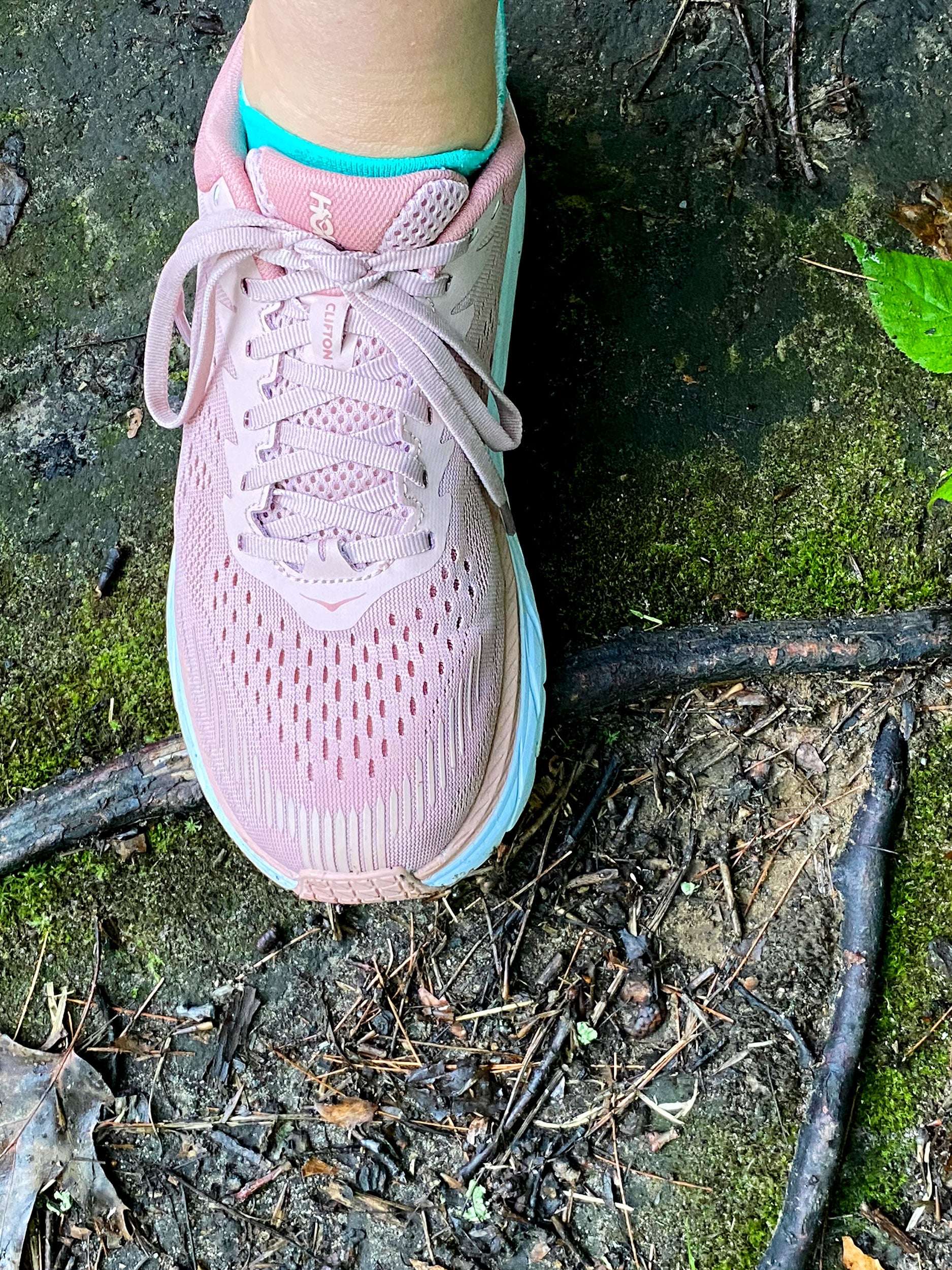 The best part was that the arch support felt great, and I didn't experience the mid-run left foot pain I normally do on my six-miler. When I got home from my run, I realized I didn't have to stop and walk! My feet also felt great for the rest of the day when normally, my feet and legs will feel a little achy and tired.
I've used these sneakers for about a week, and I've ran short distances, did an eight-miler, I walked, and I've also tested them on both the road and on trails. Every time I wore these shoes, my feet felt great, and I was impressed and so happy to find a pair of sneakers that allows me to run pain-free. I'll definitely need to get another pair for the winter!
These sneakers also look cute, which come on — I'd be lying if I said I didn't care how my sneakers looked. The other Hokas I tried had a huge thick sole, so I like how these look just like regular sneakers. I have the misty rose/cameo brown color and there are a variety of colors to choose from. Keep reading to see all of the other colors you can find in the Clifton 7s.